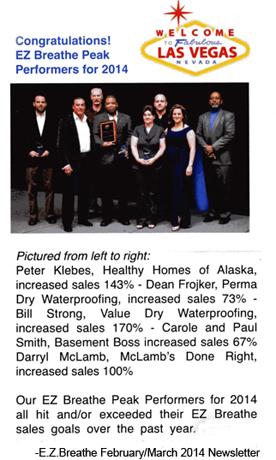 Paul & Carole from the Sarnia Lambton/ Chatham-Kent office were guests of E.Z. Breathe for their annual conference and awards ceremony in Las Vegas this past January.
Carole reports we can't thank E.Z. Breathe enough for their generosity, hospitality and the invaluable information we came away with.  As certified dealers/installers for the E.Z. Breathe ventilation systems we've had an amazing relationship over the past few years, which is easy to achieve when dealing with such a World Class customer/family oriented organization like E.Z. Breathe.
Highlights included: A motivational seminar by World renowned consultant John DiJulius who enlightened and inspired us all with his philosophies on building world class customer experience.
E.Z. Breathe released their new iPad App. This short audio, visual App will give homeowners an engaging opportunity to understand how the E.Z. Breathe works and how it would benefit their home.
E.Z. Breathe has also been developing in home air testing technology and unveiled the prototype during the conference. We are eagerly awaiting this new technology that should be available in the fall of 2014. No bigger than a half a block of butter, the device will collect air quality data over a few days through its sensors, in our clients' home.  As the information is collected it's sent to a central computer for analysis.  The air quality report will be invaluable for our clients.
While in Vegas we took the opportunity to attend the regional Basement Health Association meeting and seminars. We were introduced to an amazing hardworking network of individuals in the industry that strive to make basement health a top priority.  We are very excited about implementing some changes within Basement Boss to bring the best products and practices to our clients and look forward to more training and certification opportunities.
Last but not least, we took the opportunity to visit the World of Concrete Show.  This spectacular trade show is the largest in the world with vendors displaying concrete related products indoors and outdoors. Needless to say, we will be further researching some new products and tools that we were introduced to.  A very educational and successful trip all around, but happy to be back in the normal swing of things again.