Rhino Carbon Fiber Supports…
the perfect repair solution for bowed foundation walls

Carbon fiber is the strongest man-made material in the world.
stronger than steel
lightweight
won't stretch
Once the carbon fiber is bonded to the wall with epoxy, the wall can no longer deflect or move. Where the carbon fiber is applied, it actually makes the wall stronger than it was before.
Our unique carbon fiber system is designed to repair bowed foundation walls by linking the foundations base with the house framing, making it the strongest system on the market.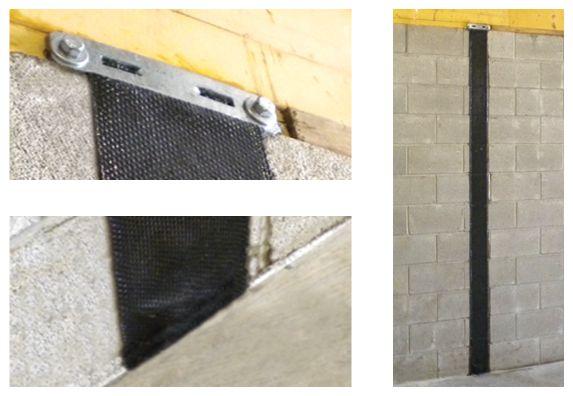 This bi-directional support system not only repairs bowed foundation walls but can also be utilized to repairs other forms of damage in foundations. This repair system works on large and small cracks, stair stepping cracks in concrete block walls, leaking cracks and hairline cracks.
this system…..
structurally repairs the cracks
stops them from moving
and prevents water from entering the basement
The smooth, flat finish can easily be painted or covered over with wall panels. For a long-lasting repair and limited lifetime transferable warranty contact your Basement Boss dealer today.
Rhino Corner Wall Repair
We offer the most advanced corner repair solution available.  This corner wall repair system reinforces and repairs the corner of the structure, preventing future cracks. The application actually strengthens the wall itself by distributing pressure horizontally to correct the damage and preventing any future damage.

 Rhino Carbon Fiber Concrete Locks
There are 6 ways a basement wall generally moves:
inward movement due to lateral forces from soil pressure
outward movement due to soil shrinkage caused by soil drying out
widening of a crack due to thermal changes, eg. freezing, thawing or wet and dry soil conditions
closing of a crack due to thermal changes
shear due to uneven loading of the structure
slight sinking of the footing
Carbon fiber locks address all 6 movements. As the concrete attempts to move, the load transfers to the carbon fiber locks and is distributed throughout the lock. The strength of the lock stops the movement and reinforces the damaged area to create the best and most permanent crack repair possible.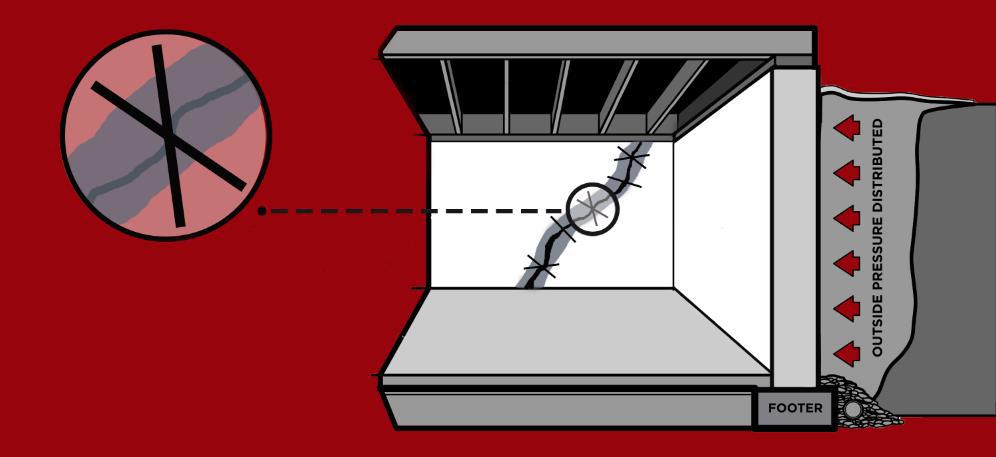 For a long-lasting repair
limited lifetime, transferable warranty
contact your
Basement Boss dealer today.