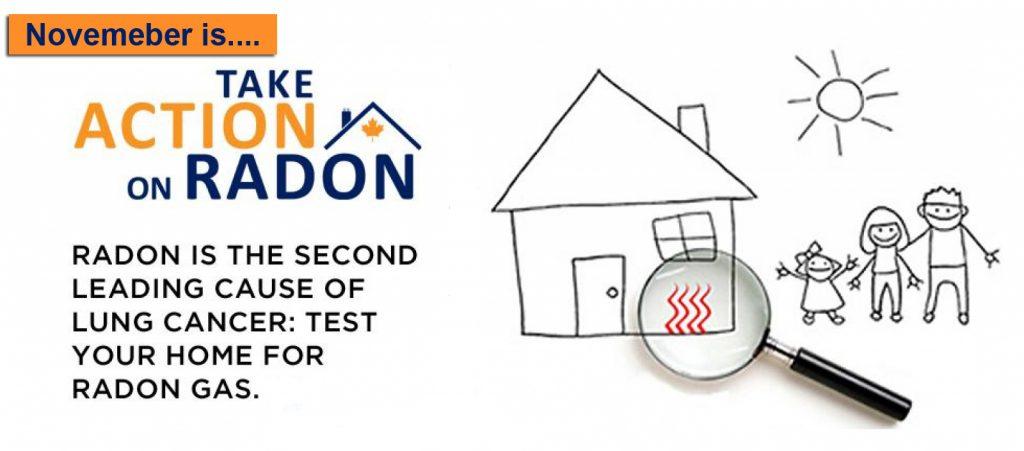 Visit the Health Canada website for further information here.
Every Home & Building should be tested for radon!
We've got licensed Radon Measurement Professionals available to deploy a radon detector to test the radon levels in your home and/or work environment.
Once the test has been satisfied, (normally 91 days) we'll set up a time to retrieve the device and forward it to an accredited Radon Analytical lab where their technicians will analyse your exposure levels and generate an individual report.
Once we've received the report we'll contact you to either set up an appointment to discuss mitigation installation options and costs if you require action; or if your levels are safe, we will simply provide you with a copy of your report and future recommendations.
Why Hire a Licensed Radon Professional?
It means you can be assured you are getting a trained, certified and licensed Radon Measurement Professional. Trained, certified and licensed through the Canadian Radon Proficiency Program, (C-NRPP). Radon Mitigation can involve different forms, dependant on a variety of factors, so it's important to contact a C-NRPP accredited professional. Our professionals are trained and experienced to ensure your home is mitigated safely and effectively. An improperly installed system can lead to other health hazards, such as carbon monoxide poisoning.
C-NRPP is the only Canadian recognized organization that can train, test and license for….
Radon Measurement
Radon Mitigation
New Canadian Home Installer
C-NRPP develops guidelines and ensures that licensed professionals maintain….
High standards
Work ethics
Continuing education
Carry Radon specific liability insurance
and deliver the best possible service
Industry standards
Have access to current information on technology
What if my levels require mitigation?
Our licensed Radon Mitigation Professionals will interpret your test results and determine the most effective way to manage and reduce your radon concentrations to a safe level within your home or building. It may involve….
Further diagnostic testing
Design and/or installation of mitigation systems
It may also involve an ASD system, (active soil depressurization system) similar to this….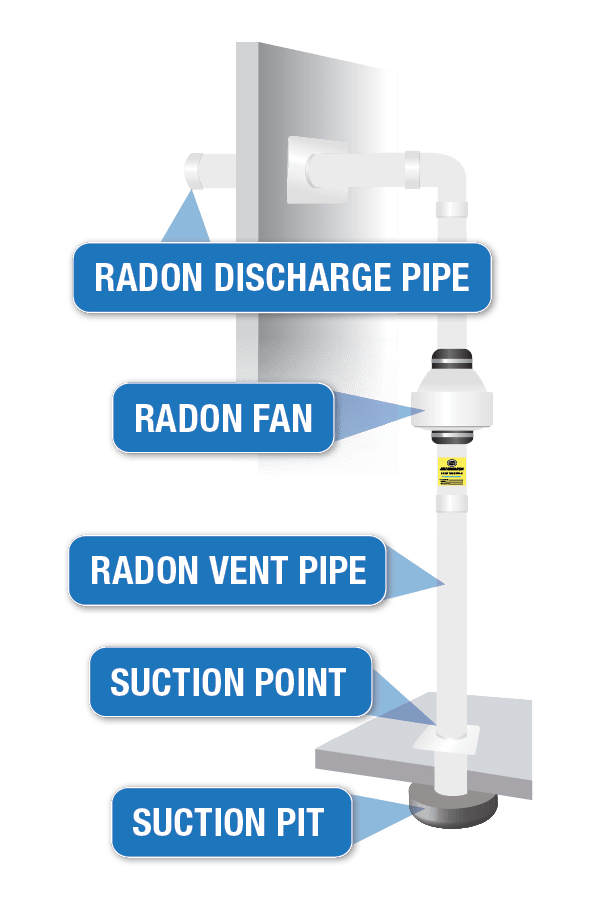 What is an ASD Radon Mitigation System?
An ASD, (active soil depressurization system) may consist of the following components:
Suction Pit: Below the concrete floor, this is an important aspect of the ASD system. To ensure air is being pulled from all areas beneath your floor. Your Licensed Radon Mitigation professional will have the expertise to determine the size of pit required, fan size and soil types, by performing a pre-installation diagnostics.
Suction Point: The point at which the mitigation system communicates through the basement floor where it connects to the suction pit.
Radon Vent Pipe: Is the avenue between the sub-floor suction pit and the fan that draws radon gases and vapour from underneath your foundation. This sturdy PVC pipe is used because of its durability and resistance to cracking. Your Licensed Radon Mitigation professional is trained to ensure a perfect seal so that radon does not escape into your home.
Fan: Is the heart of the system, specifically designed and sealed to be air-tight, quiet and efficient. It draws radon gas and vapours up from beneath your foundation. Your Licensed Radon Mitigation professional is trained to properly determine the size needed in your home, ensuring a leak free system and preventing radon contamination. Only C-NRPP approved and listed fans are acceptable.
System Pressure Gauge: (is often a U-Tube manometer gauge) Active mitigation systems have a pressure gauge to display the pressure in the piping system. Your Licensed Radon Mitigation professional will mark the initial level of pressure at installation; and instruct you to check the liquid level in the gauge regularly to ensure the system is functioning properly. An audible alarm can be installed on some systems, which will provide you with an audible alert if the system drops below an acceptable level.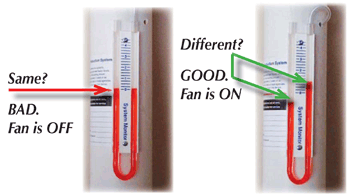 Radon Discharge Point: Or exhaust point is the only part of the system that is visible on the outside of your home. It generally exits the side of the home between the basement and main level, and high enough so that it is not blocked by snow. Radon gas and vapour is expelled into the open air where it dissipates and dilutes to safer levels, (radon is already present in the air). However your Licensed Radon Mitigation professional has the training and knowledge to consider factors such as windows, decks, other intake and discharge lines, as well as neighbouring homes etc.
Other Components of a Radon Mitigation System may include….
Membranes: A specific plastic membrane or vapour barrier may be installed where no concrete floor exists. Your Licensed Radon Mitigation professional only uses suitable encapsulation vapour barriers with the applicable fasteners and tape retardants to ensure a complete seal and barrier between the building envelope, equipment and soil. This type of system is called a Sub-Membrane Depressurization system.
Sump Liner Cover: A gasket sealed lid is retrofitted over an existing sump liner, or a new sealed lid sump basin is installed with applicable grommets, to seal around sump pump pipes and wires to ensure no radon contamination into your home.
Foundation Crack Sealing: Foundation wall and floor cracks are sealed to ensure no radon contamination into your home.
Labels: The various parts and components of the system are properly labeled to ensure present and future occupants of the home or building are aware of the radon system.
New Home requirements…..
Radon Rough-in: Are required in new home construction in Ontario as per the building code. The purpose is to make future installation of a radon mitigation system, should it be required, easier and cheaper. The rough-in is seen as the section of pipe protruding out of the basement floor and capped on top. Your New Canadian Home Licensed Radon Installer is trained to specify, configure, install, inspect and maintain a sealed rough-in system that comply with applicable building codes, standards and safety requirements.
Rough-in: In construction means, to bring a line into a space, but not make the final connection.
Click here to learn more about radon & the damaging health effects
Contact Basement Boss for Radon testing, mitigation and new home installation
This service is not available at each location. Please check with your local dealer
Some information and pictures provided by the Canadian Association of Radon Scientists and Technologists